Wedding Flowers for Him
For weddings we offer a variety of buttonhole options, as with flowers for her, normally we would coordinate the colour and styles of buttonholes to match the bridal wedding flowers or discuss particular requirements with the bride and groom. Please do not hesitate to call us on 01461 338 630 to discuss your exact buttonhole requirements; we will be happy to oblige.
At Gretna Flower Basket, our speciality is a Scottish themed wedding; we use thistle and heather and also incorporate the tartan ribbon into the floral arrangements. Let us help you create your perfect Gretna Green wedding. We also can provide gifts for the bride from either the groom or the parents.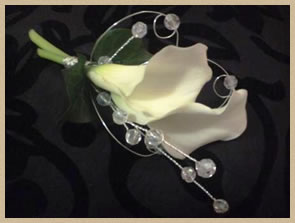 Please phone us on
01461 338 630 for a no obligation quote.